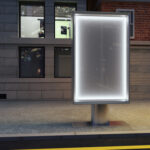 In today's digital age, advertising and marketing have become predominantly online-based. However, there is still immense value in traditional print advertising, specifically in the form of custom posters. Whether you're promoting an event, announcing a sale, or showcasing your artwork, printing your own custom posters offers several benefits that can significantly impact your marketing efforts. In this blog post, we will explore some of these advantages and explain why printing your own custom posters can be a game-changer for your business or personal projects.
1. Unleash Your Creativity
Printing your own custom posters gives you the freedom to unleash your creativity and design posters that truly reflect your vision. No longer limited by pre-made templates or generic designs, you can create unique and eye-catching posters tailored specifically to your brand or event. The ability to design your own posters allows you to experiment with different colors, fonts, and images, ensuring that your posters effectively convey your message and attract attention.
2. Cost-Effective
Printing your own custom posters can be a cost-effective alternative to outsourcing your printing needs. In the past, businesses and individuals had to rely on expensive printing services to get their posters made. However, with advancements in technology, home printers have become more affordable and capable of producing high-quality prints. By printing your own posters, you can save substantial amounts of money in the long run, especially if you frequently require new prints for various promotional campaigns.
3. Quick Turnaround Time
In the fast-paced world of marketing, timing is crucial. Waiting for a printing service to fulfill your order can potentially delay your campaigns and hinder your overall marketing strategy. By printing your own custom posters, you have complete control over the production timeline. You can print posters on-demand, allowing for a quick turnaround time. This means you can respond swiftly to changing circumstances and stay ahead of your competition.
4. Flexibility and Adaptability
One of the major benefits of printing your own custom posters is the flexibility and adaptability it offers. When utilizing professional printing services, there is often a minimum quantity requirement for each order. This can result in excess prints that may go to waste if your campaign strategy changes or if the event gets postponed or canceled. Printing your own posters allows you to print only what you need, reducing waste and maximizing your marketing budget. Additionally, if you need to make last-minute changes or updates to your posters, having the ability to print them yourself ensures that you can make adjustments as needed without any delays or complications.
5. Personal Connection with Your Audience
In the digital era where online interactions dominate, physical printed materials can create a personal and memorable connection with your audience. Custom posters that are physically displayed in strategic locations can capture the attention of passersby and engage them in a way that online advertisements cannot. Moreover, having a tangible poster allows potential customers to take it home, hang it up, and be reminded of your brand or message every time they see it.
Conclusion
Printing your own custom posters offers a plethora of advantages that can greatly enhance your marketing efforts. From unleashing your creativity to cost savings, quick turnaround time, flexibility, and creating a personal connection with your audience, the benefits are numerous and undeniable. So, if you're considering promoting an event, announcing a sale, or simply showcasing your artwork, consider printing your own custom posters and witness the impact they can have on your marketing strategy.
Got Questions? Let Us Help!
Copycat Printing: home of custom designs, eye-catching signage, and professional printing. Copycat Printing is a family-owned and locally operated printing company that has been open since 1988 in Kearney, NE. We pride ourselves in providing excellent customer service and delivering a high-quality product. Our highly experienced staff can help with all of your printing, copying, bindery, graphic design and large-format projects! Copycat Printing is your number one source for standard (envelopes, forms, business cards, raffle tickets, letterhead, brochures, newsletters, postcards, manuals, custom notepads) and large-format (posters, banners, yard signs, vehicle wraps) printing, blueprints, and many other services. Call us today!
Categorised in: Poster