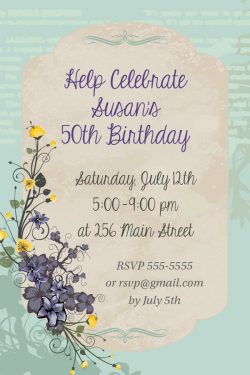 In the world of Facebook and Evite, few people send out physical custom invitations these days. After all, it takes more effort (and money) than pointing and clicking. If you want your event to stand out, however, printing custom invitations is an important task. Not only will you make your recipients feel special, but it will also help set the tone for the event. When you care enough to print and send custom invitations, it shows you care about your wedding, birthday party or other important event. Here are a few reasons why you should invest in professional printing services:
Show you care: When you receive a custom invitation in the mail, it shows that the sender has put time, effort and funds into inviting you to a party. When people receive physical invitations, it shows that they're not being invited simply because it's easy to point and click. It shows that you've taken the time to curate a guest list, put together real personalized invitations and send them out to your VIPs. As a result, your guests will expect that the rest of the party will be just as detail-oriented (and enjoyable).
Set the mood: Custom invitation possibilities are virtually unlimited. Choose a design that will set the mood for your event—you can reflect your theme with graphics, font choices and colors. If you're not sure what kind of mood your invitations should convey, the designers at Copycat Printing can help you decide. Come with your ideas, and let us handle the rest.
Create anticipation: When's the last time you got a physical invitation to a party? Once you put it up on your fridge or bulletin board, you have a great reminder of the upcoming event. The more beautifully designed the invitation, the more anticipation it creates—whether it's a woodland-themed children's birthday party or a Gatsby-style birthday bash.
Make it easy to find the details: Physical invitations make it easy to find or remember the important details, like location, date, time, contact information and more. You can display the invitation until the event, then stash it in your coat or purse on the way to the event. This is especially helpful if your invitation is printed with a map and directions or other important details on the back.
Make it memorable: Finally, custom invitations will make your event memorable. Anyone can send out a digital invitation, but custom invites are far more memorable. This is especially true of wedding and milestone birthday invitations—or any party that will have sentimental value for attendees. Many people save their personalized invitations in scrapbooks and memory boxes.
When you invest in custom invitations from a professional printing company, you're elevating your event in the eyes of your guests. The team at Copycat Printing is excited to help you come up with the perfect way to spread the word, commemorate the event and kick off the festivities in advance. Call us today or stop by to get started with a consultation.
Categorised in: Custom Invitations